The Ultimate Guide To Using Instagram For Business
Published on 26th of July 2018
Instagram is a huge platform right now and for many business owners a question exists in their mind. 'Just how can I use Instagram for my business'? If you have ever thought about that question this 'mega' guide is for you. We are going to look at the steps you need to take so that you can take your business to new levels on one of the biggest platforms there is. By the end of this post you will know:

How to grow your Instagram Following
How to use Instagram to drive traffic to your website
How to network and connect with other business owners
And how to create content that your audience loves (hint, it is about more than taking pretty pictures)

Ready. Let's do this.

Is Instagram Right For Your Business?
One of the first steps to using Instagram is to decide if it is right for your business in the first place. To know this we need to revisit the fundamentals of marketing. According to marketing guru Seth Godin there are 2 types of marketing.

Direct Advertising
Brand Marketing

Direct advertising is anything that has a 'call to action'. In essence you are asking them to do something and most likely in this case you want them to buy from your business.

Direct Advertising is a paid activity which you can track to see what your ROI is, and Instagram certainly has these capabilities with the their Ad platform (they are owned by Facebook.)

Brand Marketing however is the cost of telling your story. It is how you get people to become interested in your business, to learn more about who you are and what you stand for. Instagram is great for this also.

The big question though is 'do your customers use Instagram'? According to Instagram over 200 Million users visit at least one business profile daily making it super powerful for every business. Therefore the question really should not be should you use Instagram for business but how should you use Instagram for business. Well fear not because we are going to go into detail on this subject.

Developing An Instagram Growth Strategy
Most people head feet first into Instagram and start posting about everything they can think of. Images of their business, images of their cat, images of their kids… you get the idea. You need to stop this immediately and start to use strategy to supercharge your account for business growth.

To do this you must go on a research mission and the aim of this mission is to discover what content and what hashtags work for your industry. Let us say your business is a coffee shop. Start by looking at the huge coffee shop brands to see what type of content they post.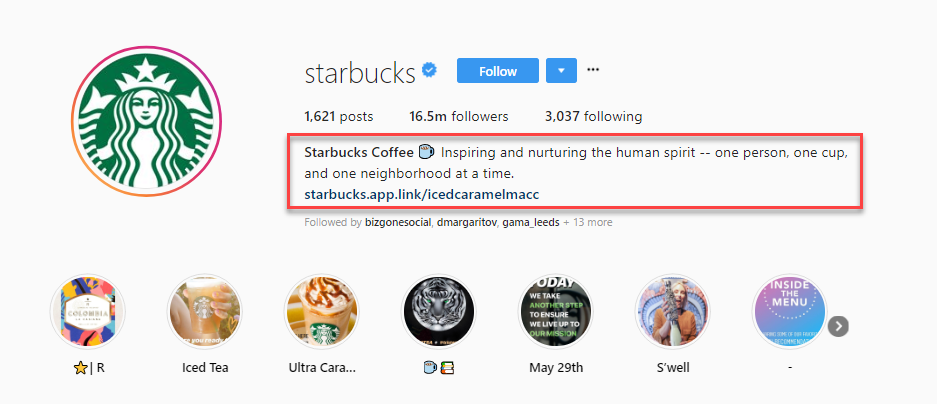 Starbucks has a huge 16.5 million followers and their page has a great 'mission statement' in the profile page. But go down the page and look at the type of content they produce that gains engagement.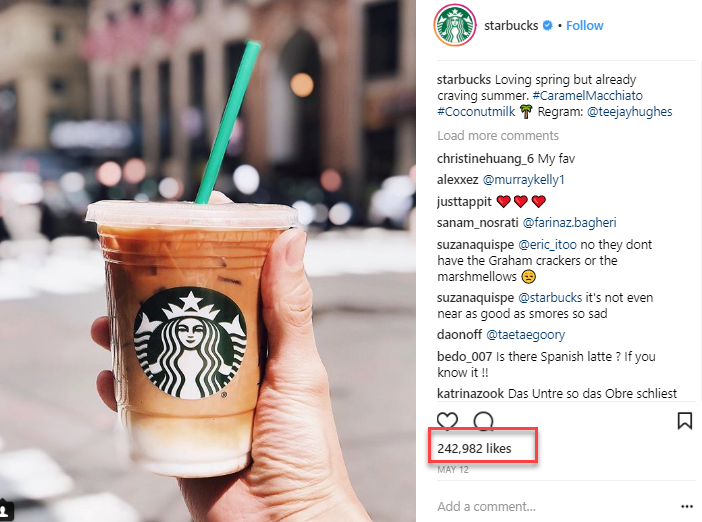 This post is a simple 'product' shot in the street yet has gained a gigantic 242,982 likes. Start to make a 'swipe file' of all the best content they produce (this will help you loads) Next head over the Google and start to search for coffee shops in random locations.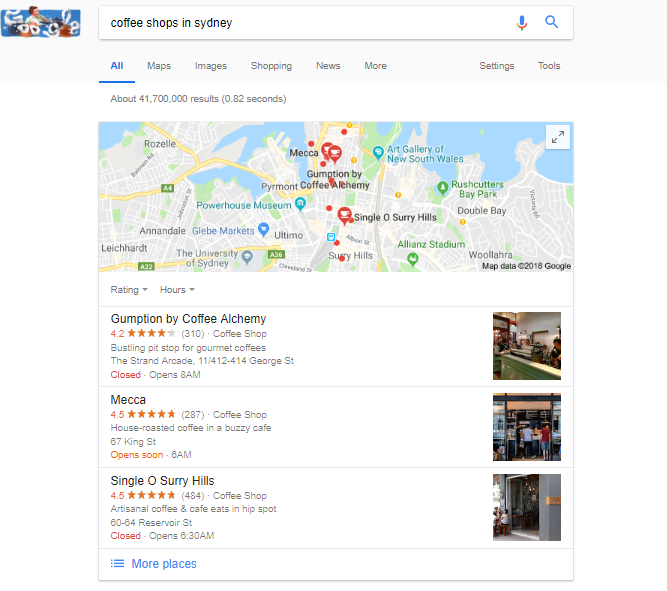 Click on a few locations and look for their Instagram links.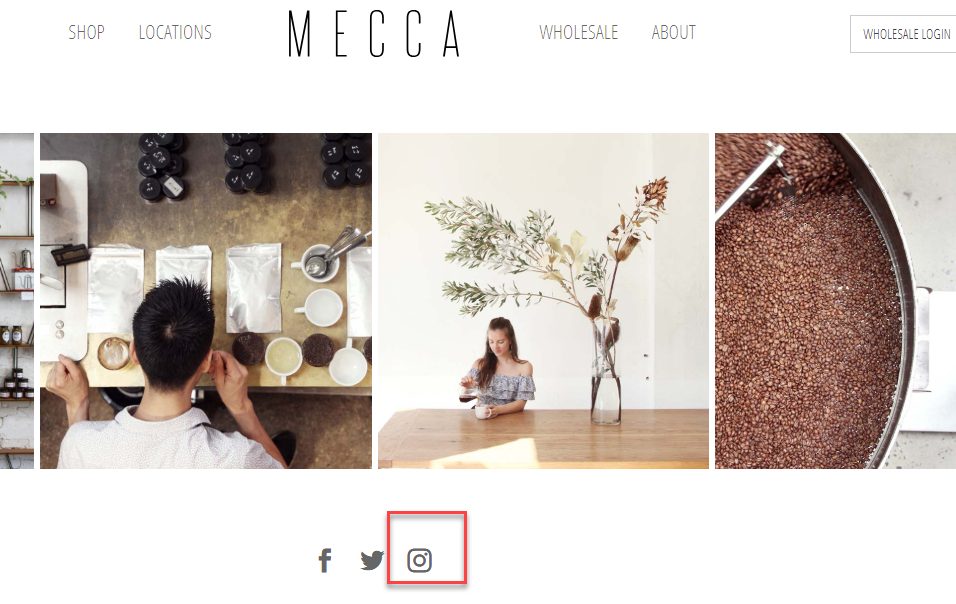 And repeat the steps above.

Your aim is to look at the style and type of content being produced by those in your niche.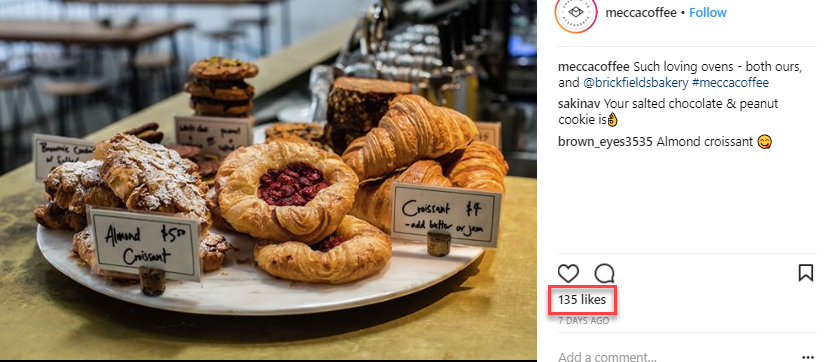 For example this post showing food has gained 135 likes. Once you have a swipe file of at least 30 businesses and posts types you can start to plan your business strategy. A good strategy will be based on the following 5 areas:

Create high quality and visually appealing posts
Ask your audience for engagement
Use the DM tool to connect with other businesses
Drive traffic to your website
Grow your brand/ Instagram page

How To Create Top Performing Instagram Posts
In this section we are going to look at how to structure your Instagram so it works to great affect. And while nice pictures do well, this post looks at the subject in far more depth and will show you both the types of posts you should use and what images will get your audience craving for more. For any business there are essentially a small amount of posts types you can use. Here they are. These 5 areas are key for growth and we will look at each area.

1. Quote Posts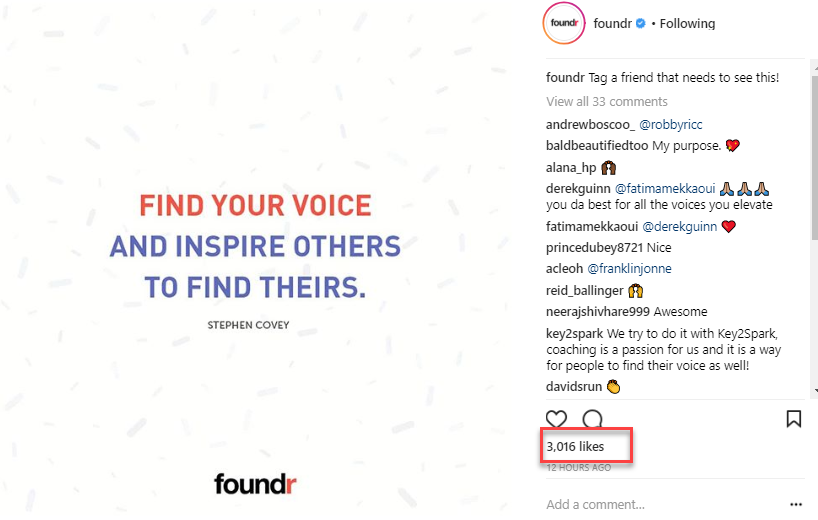 Quotes are still hugely popular on Instagram and Foundr Magazine grew their channel to 1.3 million followers doing just that. They are easy to create and there is an abundance of them.

2. Quotes With Brand Photos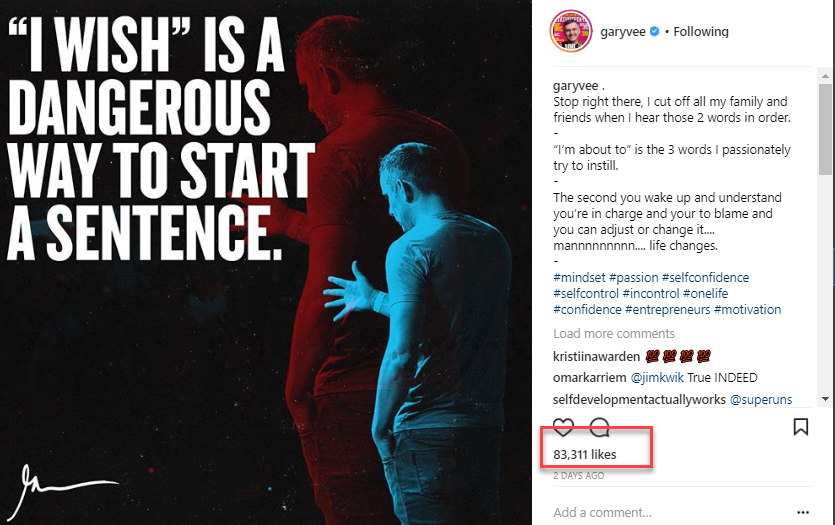 One up form the plain quote, a quote with a brand image which could be you as a person or your products are incredibly powerful. We can see how Gary Vaynerchuk uses them with success here.

3. Product Shots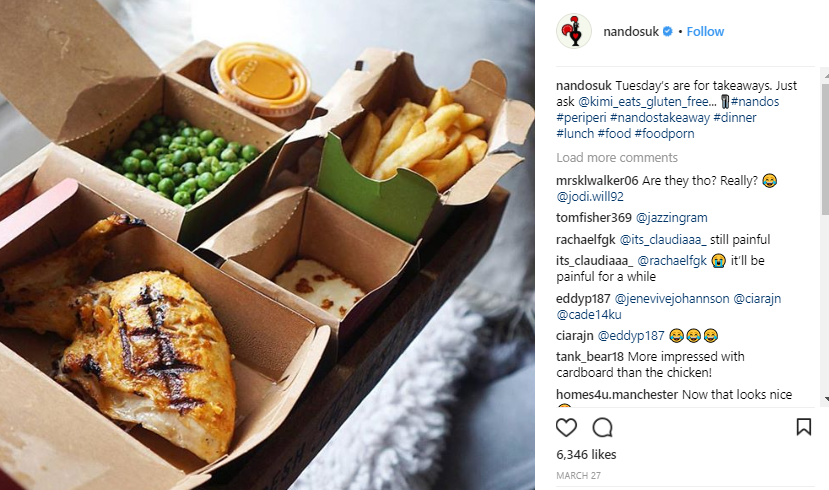 From food and water bottles to clothes and handbags, product shots are a great way to showcase your business.

4. Question Posts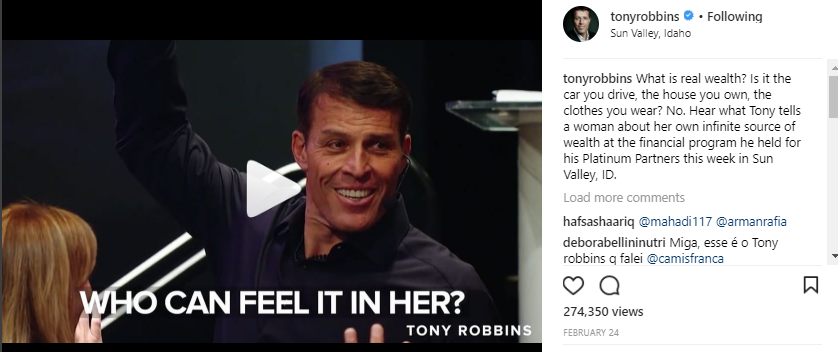 A question post is designed to get the audience to engage with your content and works really well. The above example is from Tony Robbins (in a video format) and with over 274,000 views you can see how powerful this is.

5. Stories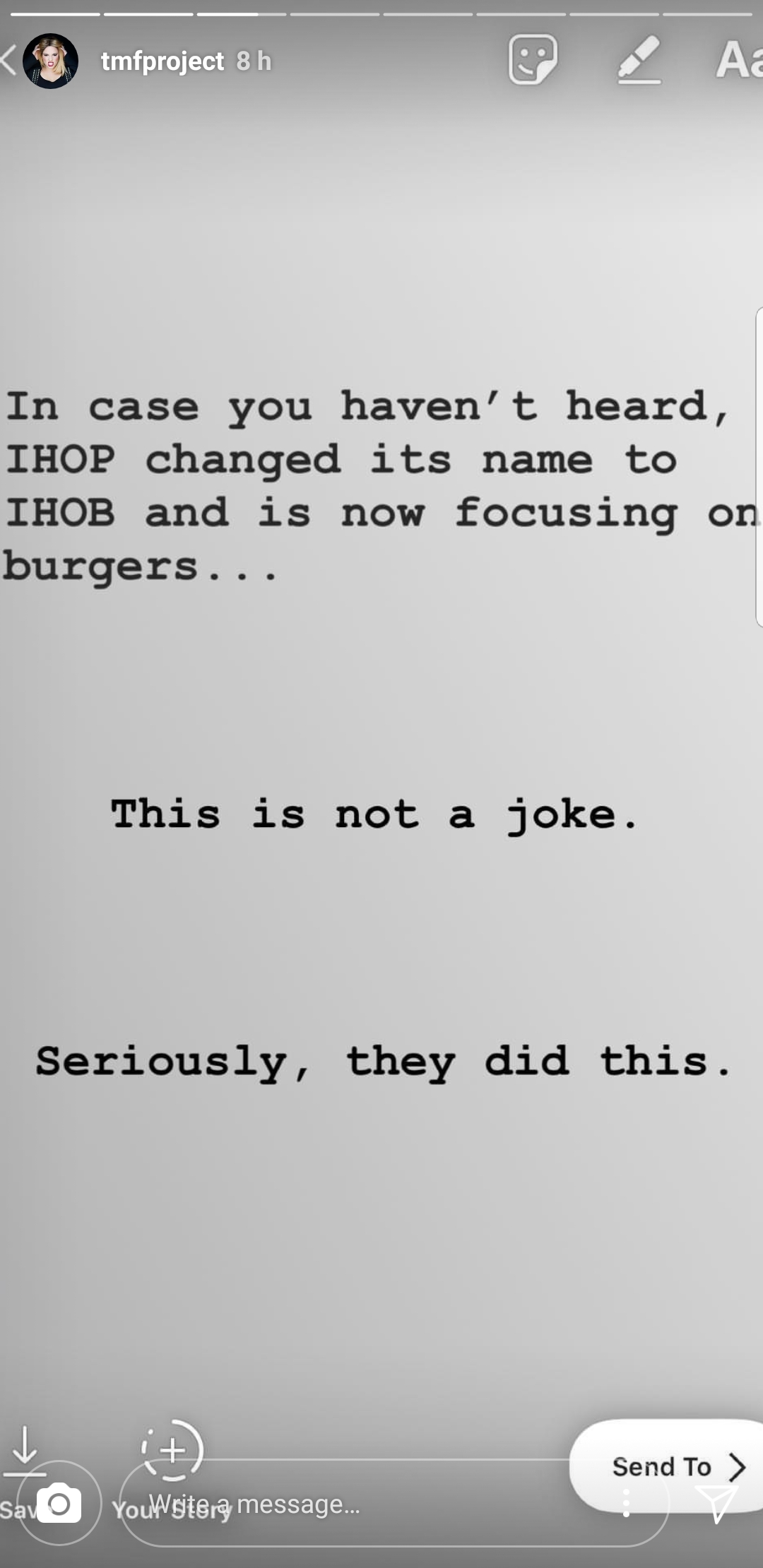 Stories are a relatively new way to share content, in essence this is telling people what is happening in the day to day workings of what you are doing. These are the basic post types that make up the vast majority of Instagram for business posts. There are a wide range if variations to these such as carousels, quizzes/ giveaways and video posts but the format remains the same. Underlying all of these is perhaps the most powerful Instagram principle for business that you need to master, and that is the power of status. Once you master this your posts will pop out and gain more traction than you ever thought possible.

How To Tap Into The Power Of Status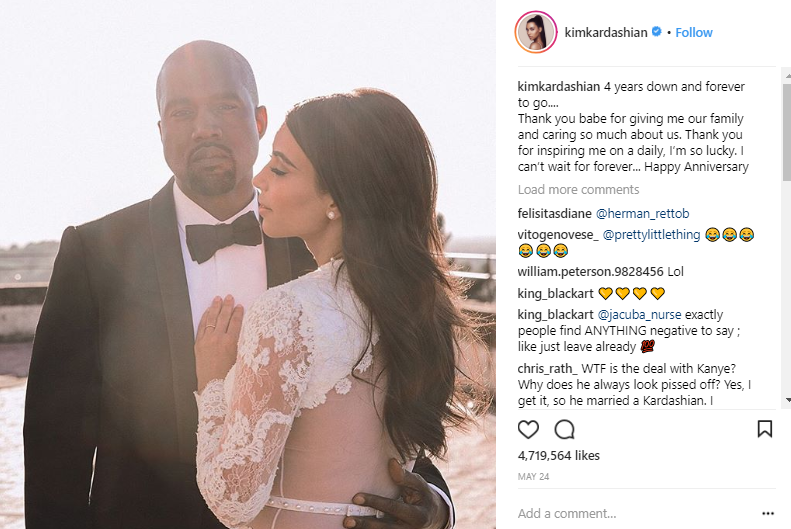 Regardless of if we like it or not, status fuels Instagram. The platform is a plethora of people looking to increase their perceived status in both the eyes of their followers and in most cases their own. Yes, this is a deep thing to grasp but it essential if we are going to achieve maximum results on the platform. Status roles dictate human behavior and we need to maximize this for our businesses if we are going to grow our revenues. So, how do you use Instagram for this? There are 2 ways.

Your content will increase the perceived status of your product or service.
Your content will increase the perceived status of the customer when using your products or services.

Status Increase Case Study 1: How Water Becomes Even More Valuable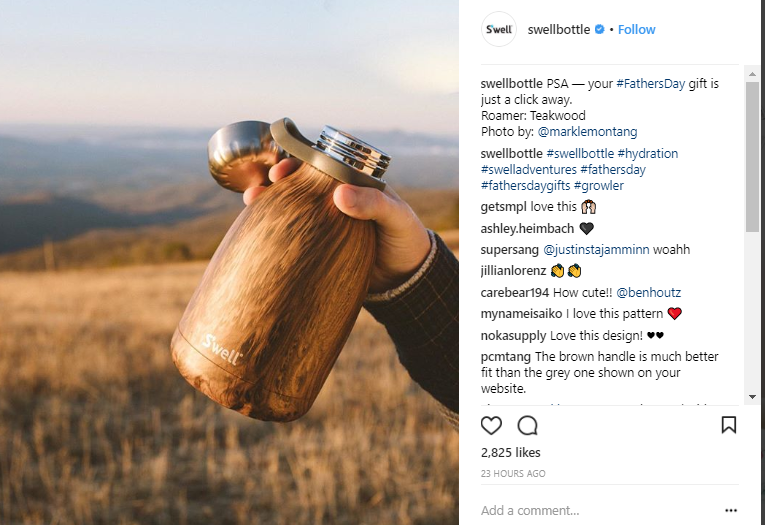 When it comes to water there is not a great deal you can do to make it more valuable, that is unless you are willing to jump into a boat and chip ice off icebergs and melt it down (yes this is a thing). However the owner of 'Swell bottle' managed to massively increase the perceived value of water (and any other liquid) by creating a designer bottle to place it in.

The owner Sarah Krauss wanted to create a bottle that would help eliminate the need for plastic bottles. Her aim was simple, to make swell bottles 'crave worthy'. And as her company is estimated to be worth around $180 Million she has succeeded. Now, the very carrying of a 'Swell Bottle' says you are fashionable and as such increases the status of those using it. So what kind of content fuels this kind of status increase?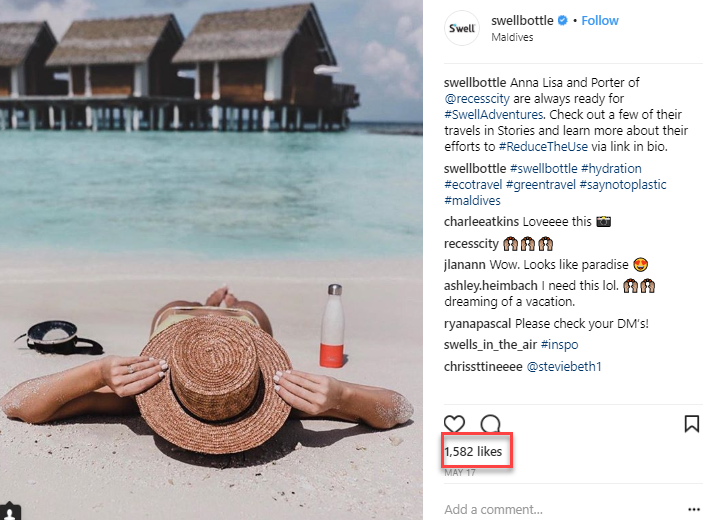 As we can see the content is designed to showcase the 'fantastic lives' that Swell Bottle drinkers enjoy. They even talk about #swelladventures. In other content on their channel they are keen to use exotic locations and people enjoying a life full of culture.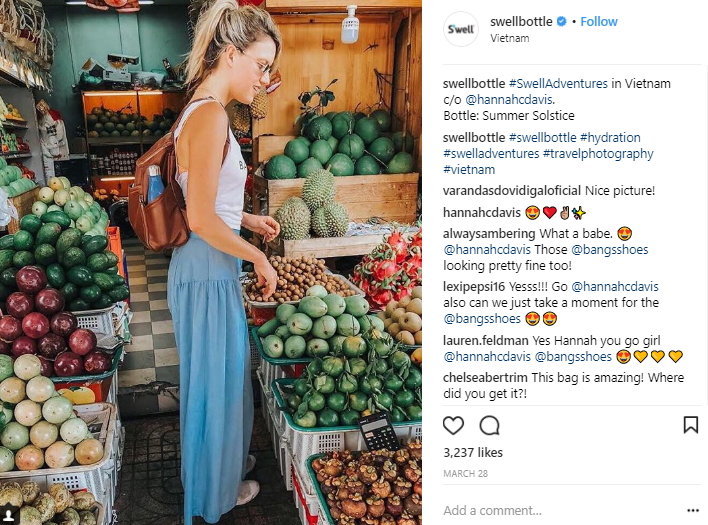 Swell bottles make it very clear that the story their Instagram is telling is 'people who drink from swell bottles are interesting people who do interesting and fashionable activities'.

Case Study 2: How Taking Photos Can Become Ultra Cool
Everyone takes selfies. A quick trip down to your local town will see men and women, young and old taking 'selfies'. But there is a group of people for whom 'selfies' are amateur hour. These are the owners of DJI Mavic Drone.

While owning a drone is pretty cool anyway, the DJI global Instagram page has made it even 'cooler' by showing the incredible images you can take with the drones.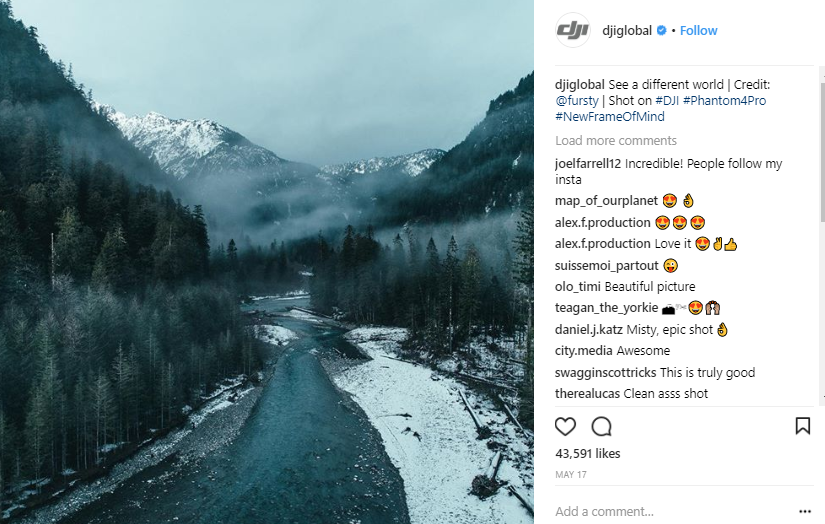 Anyone into filming and photography would love the ability to take images like these. And if you take images like these 'your status' as a photographer goes up in the eyes of others and yourself. Imagine you run a local photography studio, a client is considering hiring you for some corporate photography, sure enough they click on your Instagram and see those types of photos, I think you can guess how blown away the prospective client is going to be. Mavic is selling the idea that if you use a Mavic you can take incredible photos and if you use a Mavic you are an incredible photographer!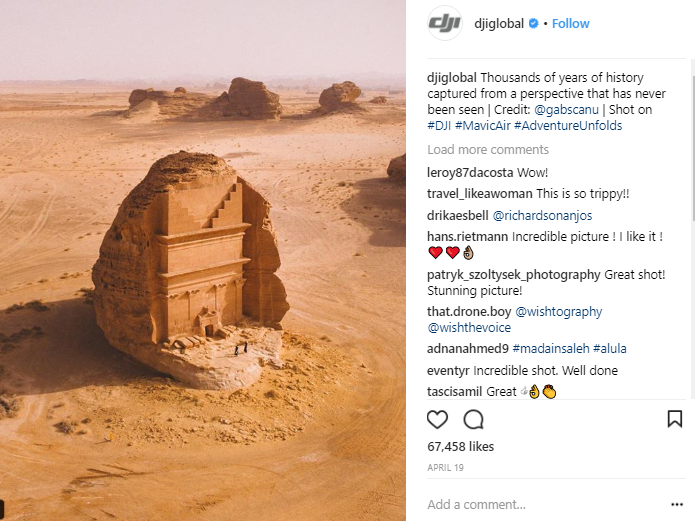 Can you use Instagram to increase the status of your brand or users of your brand/ products? Sure you can, here are our top 3 tips.

1. Create Images That Highlight The Tip Of The Iceberg User
As we saw with the images created by Swell Bottle, they are based on what the very best life of a swell bottle user would look like. Although not focused on an individual, the images depict those living a fashionable lifestyle, going to amazing places and looking great while doing so.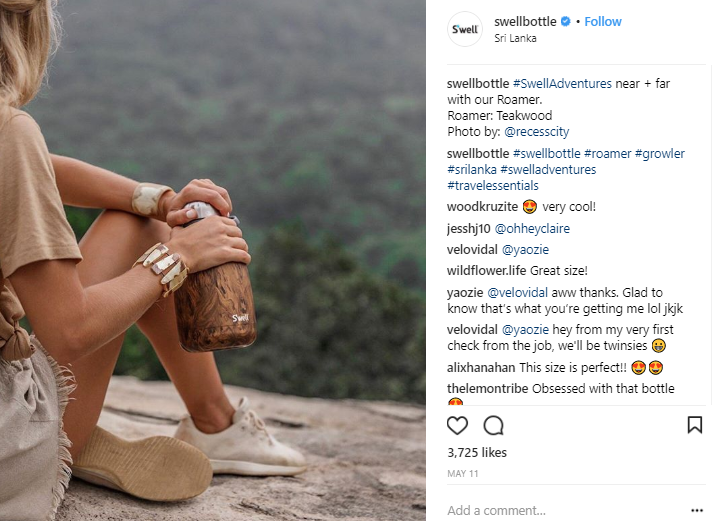 They cleverly drop in their products within these images. To do the same think about what the 'best user' for your product or service is. For example, if your business sells running shorts you could have images of super fit runners wearing them while running in stunning locations.

2. Create Images That Inspire Feelings
In the example with the Mavic drones we saw how images can affect people on 2 sides. First you have the consumer of the content who looks at the image and feels inspired to take images like those, or perhaps simply admires the image as it is aesthetically pleasing. On the other side we have the Instagrammer who took the image. They feel proud of their achievement. Of course the best feeling to create with imagery is the 'desire to own' your products. A great example of this is Interflora with a flower crown used by this Instagrammer.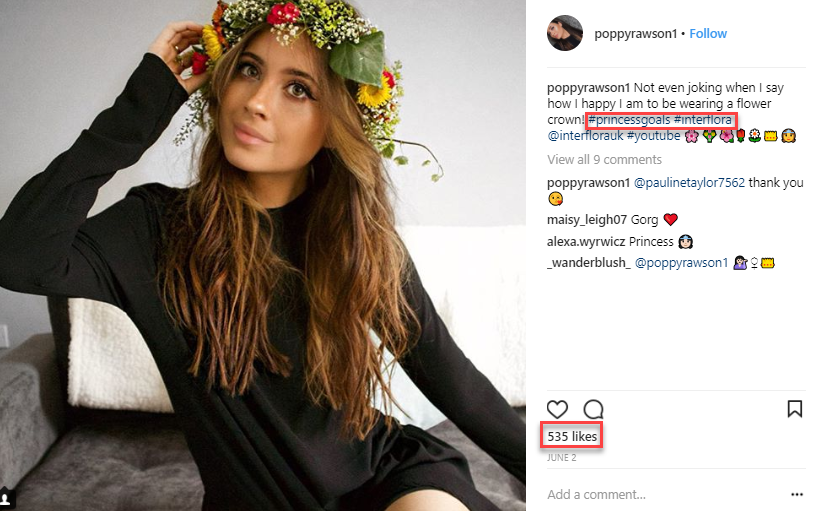 3. Use Your Images To Support A Customer Journey
Our final tip to use Instagram to increase the perceived status of your products/ brand is to encourage customers on a journey. We are all on a journey in life, perhaps it is the journey to lose weight, have a clearer mind or to look more fashionable. You can use Instagram to support your customers as they go through their journey in life.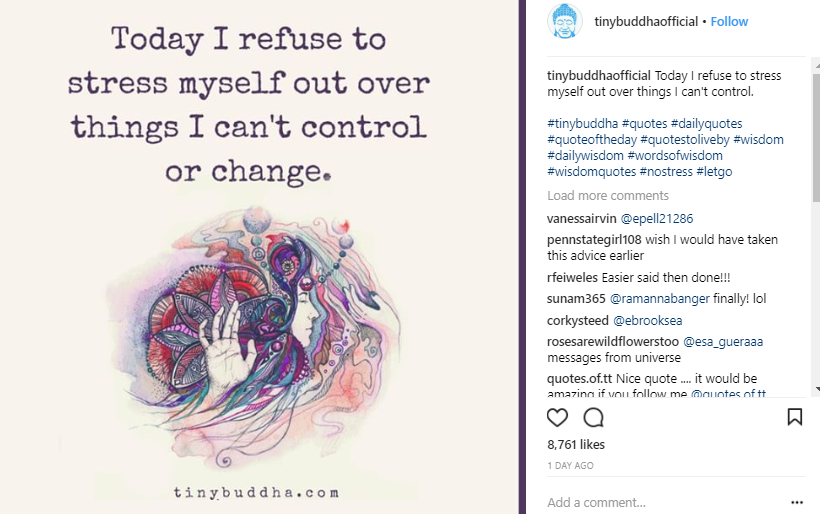 Tiny Buddha do a great job of this with their Instagram. If you didn't know Tiny Buddha is a self-development website that sells books and courses and their Instagram images support their customers/ potential customers as they journey through life's struggles. Another Instagram account that does this well is Foundr, an online magazine for Entrepreneurs.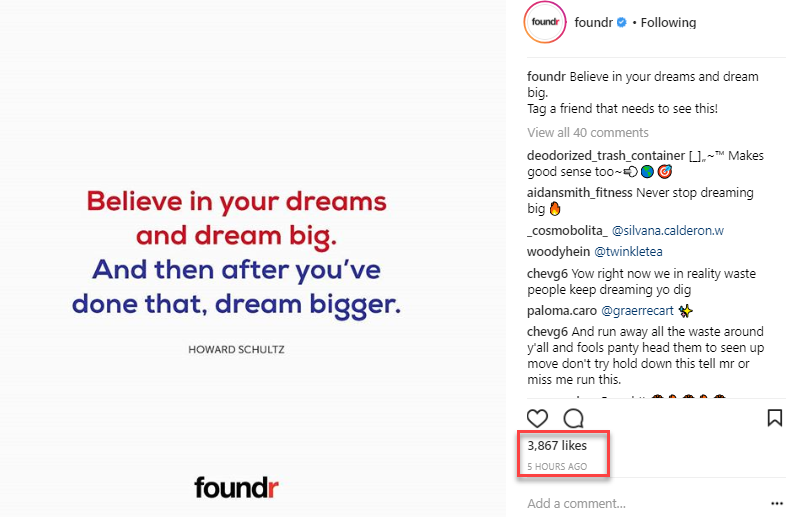 The use of quotes works incredibly well for foundr as they support young entrepreneurs with text that motivates their audience. These images are 'self reinforcing' for the content user and help them to feel that their 'status' is increased.

How To Ask Your Audience For Engagement
So you now know how to create posts that are visually appealing. The next step is to start to ask your audience for engagement. With an engaged audience they will start to see more of your posts, and both like and comment. The first step to this it get your audience to turn on 'notifications for your channel'.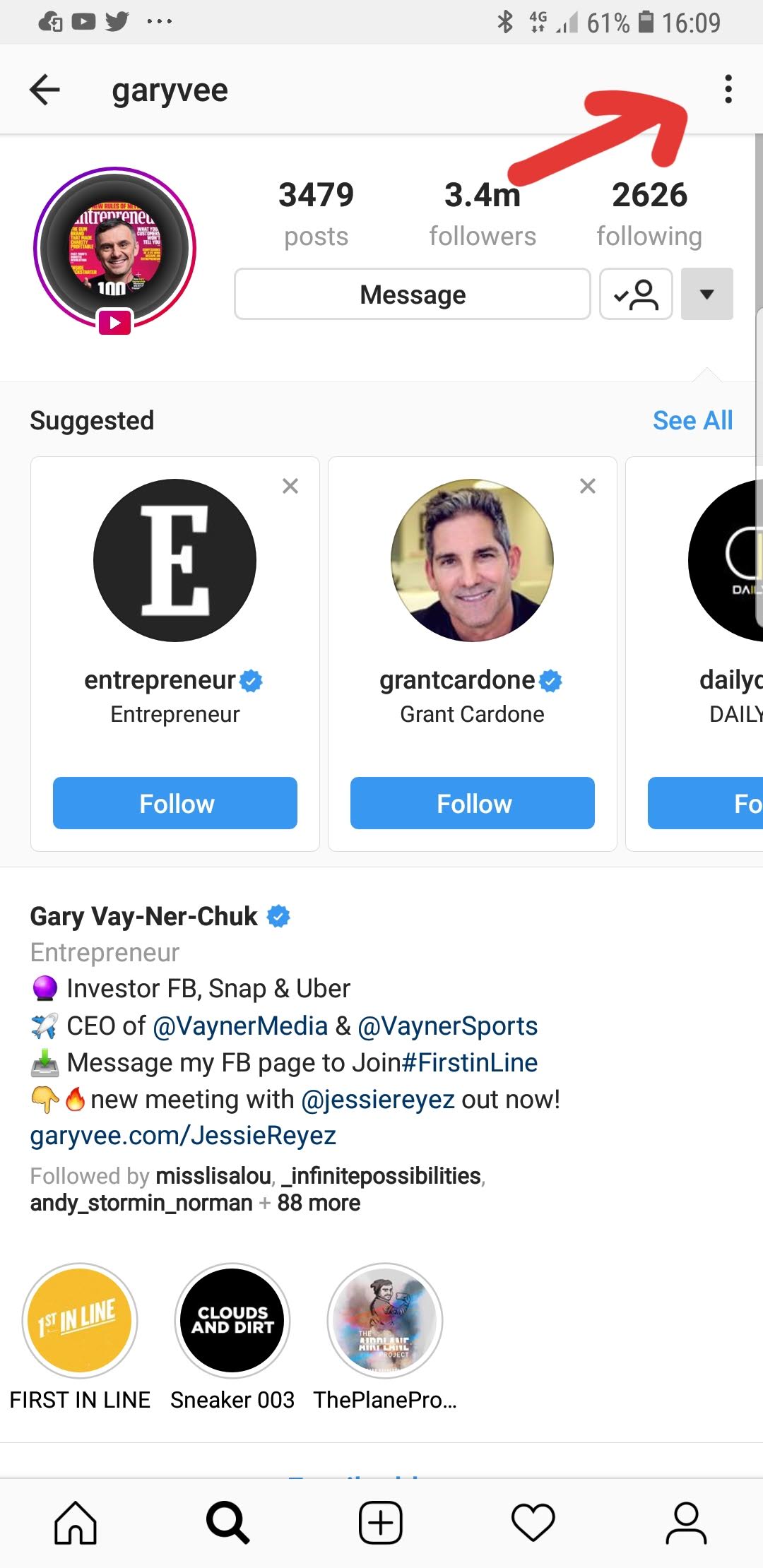 In the corner of every Instagram profile are 3 dots, click those and you will reveal a range of further options.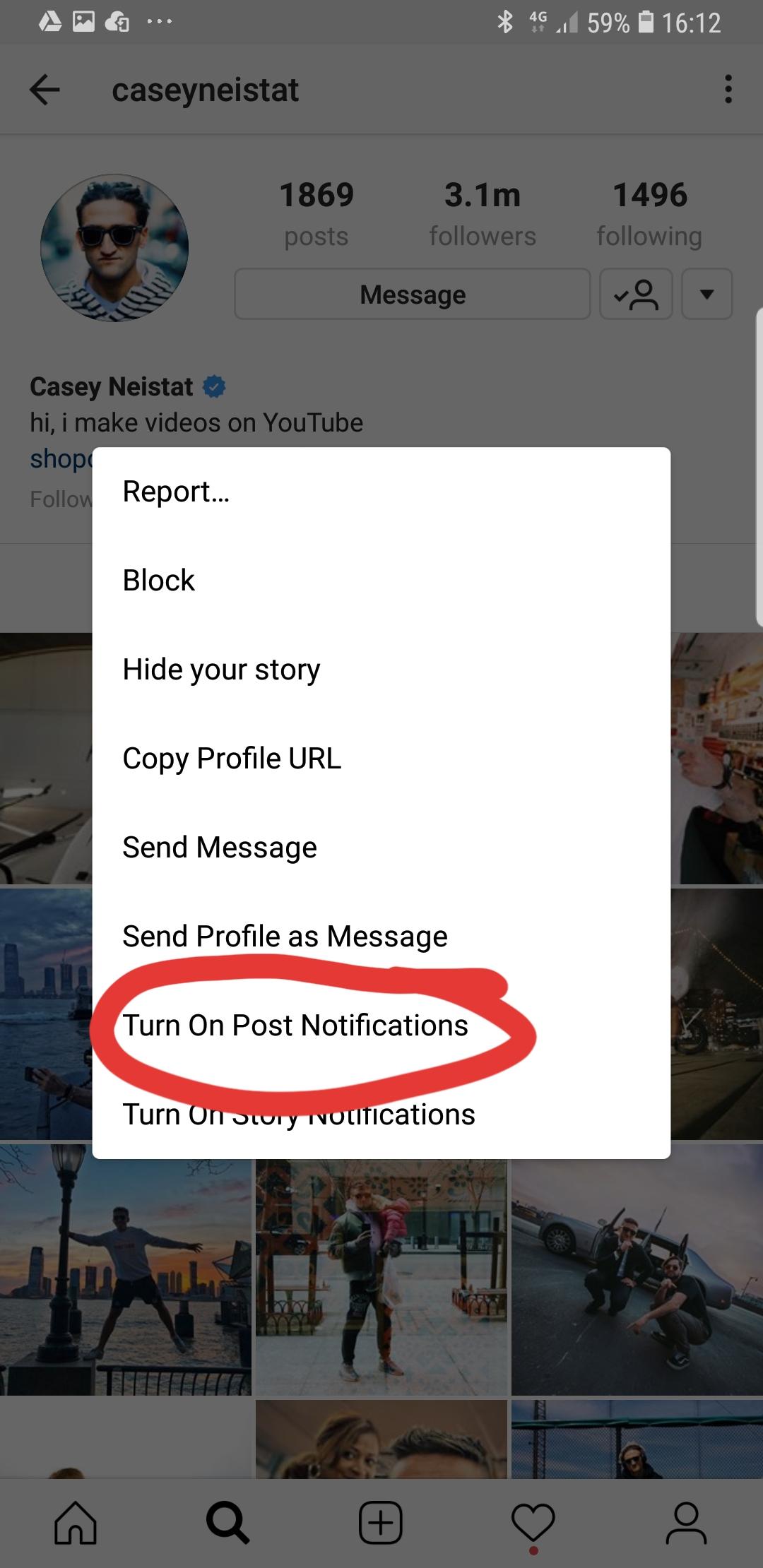 Among these options is the 'Turn on post notifications option'. This is the equivalent of getting an email subscriber because they will be notified every time your business posts. To get the to do this you can use the same process that YouTubers use, simply ask them to turn on the notifications. The next step is to encourage the audience to engage and one of the best ways is to simple ask them to 'tag a friend'.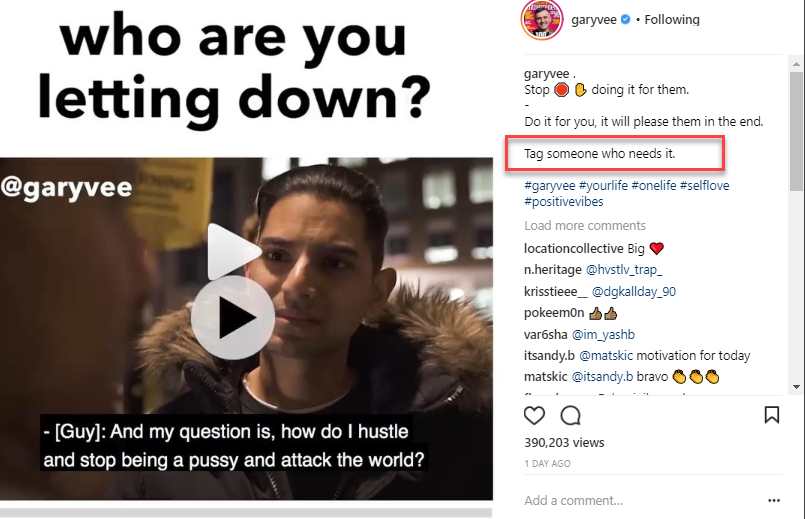 Gary Vee does this incredibly well in his content and you can do the same.

How To Use The DM Button To Engage With Other Business Owners
Instagram has a tool called DM or direct message. The idea is simple, you can use it to message anyone on Instagram. Here is how you can use it to engage with other business owners. Let us say that you are a baker and are looking to sell olive in your shop to go with your breads. Head over to Instagram and the search field.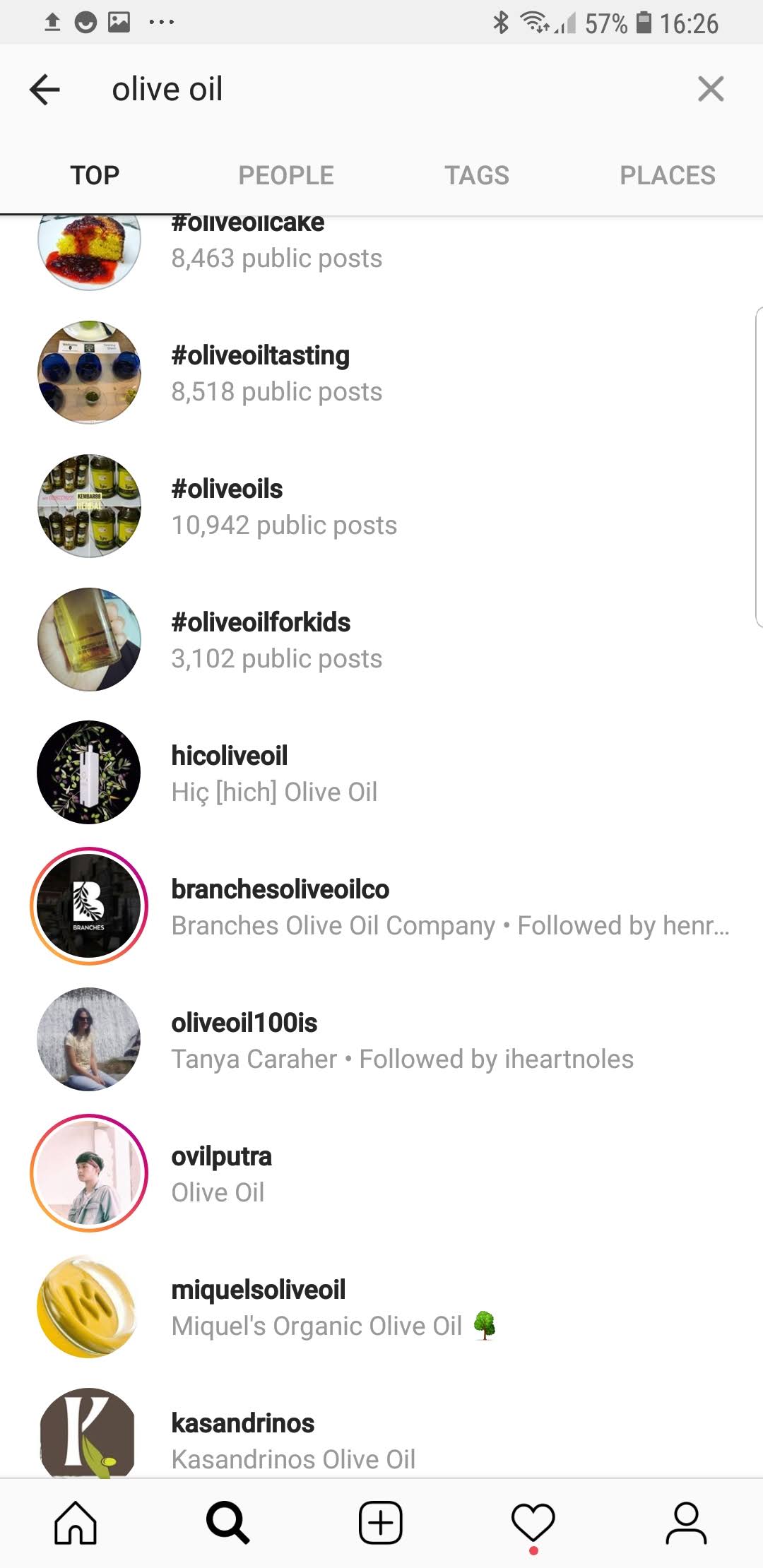 Once in the search type in 'Olive oil' (or whatever you need to look for). Then scroll down until you find a good business that matches yours. Follow them and then send them a message: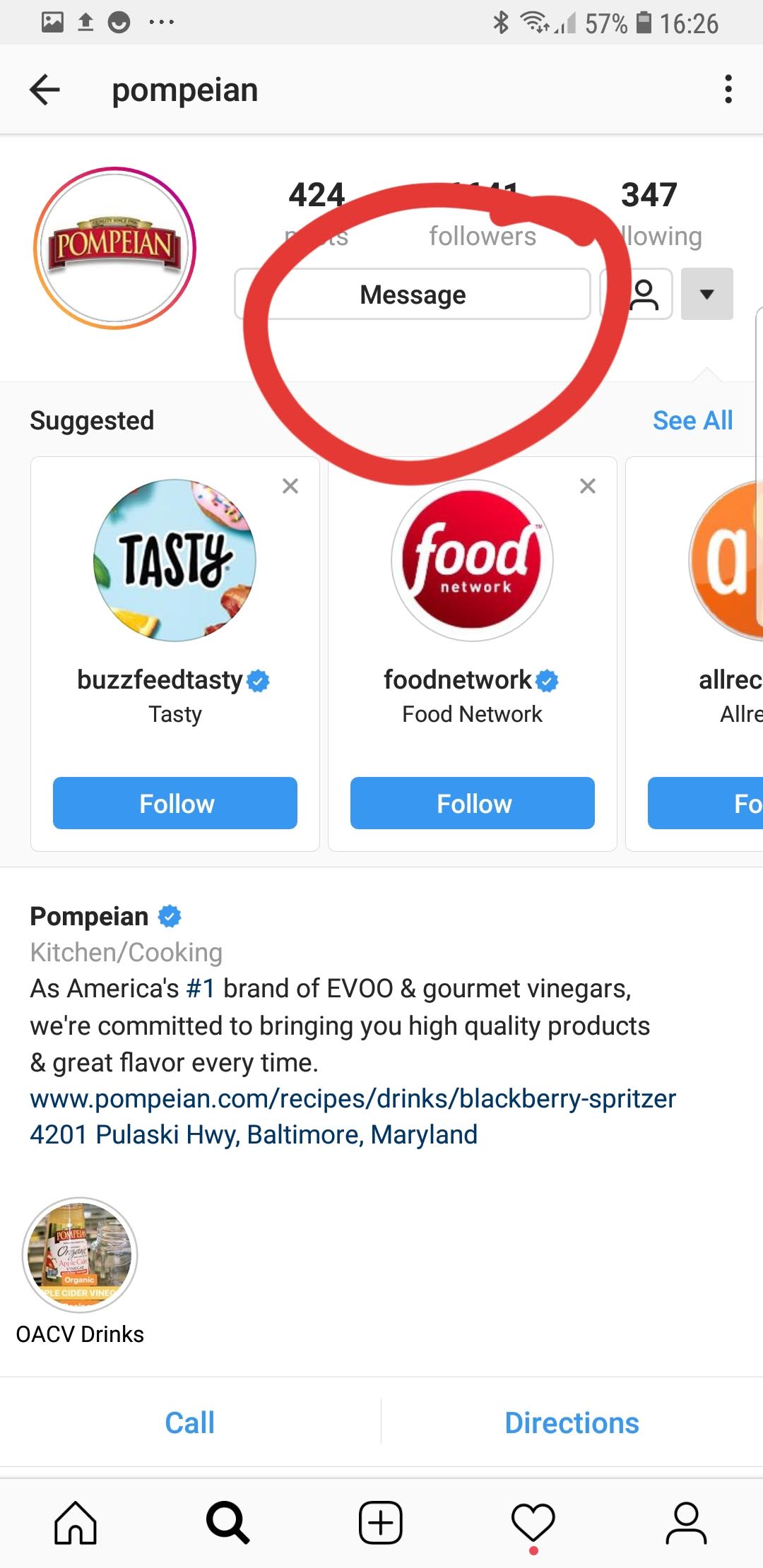 You can also use the 'call button' below as well to connect with them about your business idea. The follow and connect method is far faster than traditional business networking.

How To Drive Traffic To Your Website Using Instagram

Without doubt one of the best ways to drive traffic to your website is to use a call to action in your profile. Your website link should be visible and this is where you want to drive traffic to. The stronger the call to action, the more likely you are to get the clicks.

Appsumo use a more forward way compared to Rugby warfares store link and Tim Ferris uses his huge following to send traffic to his Podcast.

And The Futur use another approach with their profile asking for follows: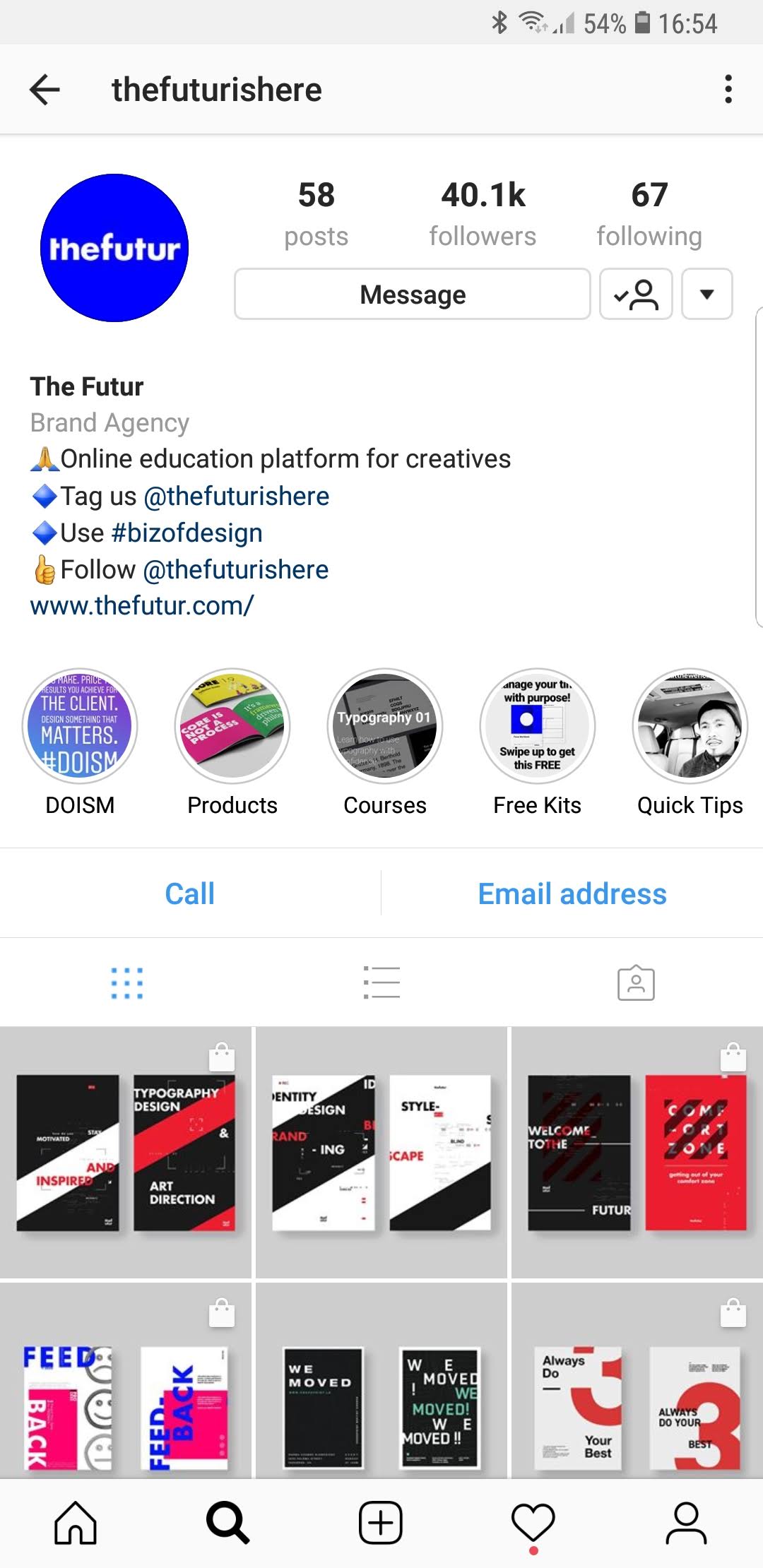 Whatever you choose to do, make sure you add a good link into your profile to ensure you drive traffic to your business site.

How To Grow Your Brand And Page Using Instagram
Finally we are on the path to growth. By following the steps above you will have incredible content and already be starting to get a small following. But how do you grow this following? The answer is with hashtags. Hashtags are the way a business can be found by people looking for something online, and now people can actually follow certain tags. You can post up to 25 tags on Instagram and you should aim to do this with each post. To find what tags to use simply head over to Instagram and hit the tags button.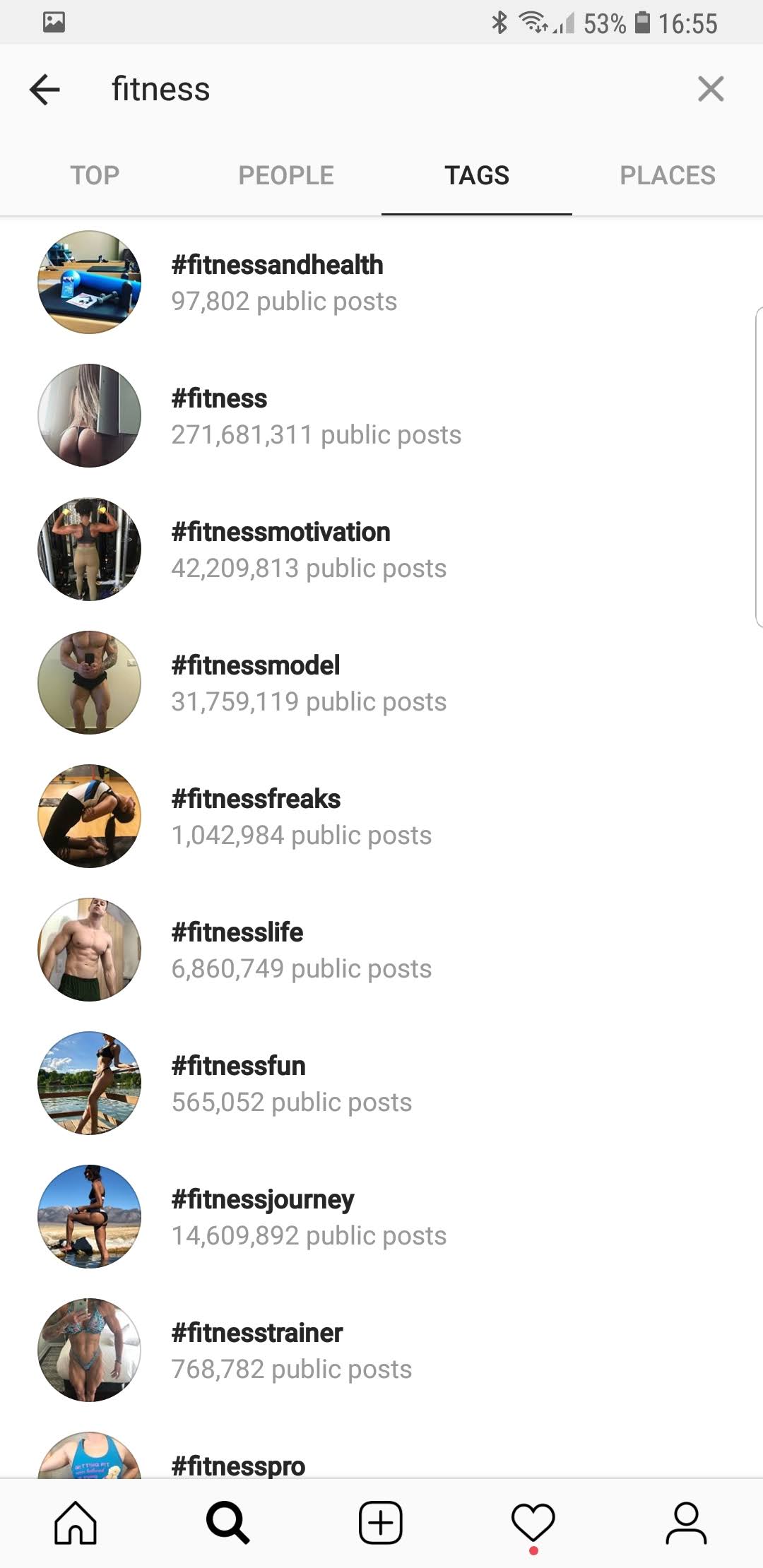 From there you will be able to see all the best tags you can use. Try and make a notes file that has 25 tags you want to use and make sure you have several of these files so you can mix and match the tags you want to add. Once you do this add your tags to your post either in the text or the first comment field, it is totally up to you. And over time if you post regularly you will start to show up in feeds and gain followers.

Deploying Your Instagram Business Growth Strategy
Ok, so now we have covered all the assets you need for your business growth strategy. The next step is deploying it. This is of course totally up to you but consistency is the key to using Instagram successfully and if you fail to post regularly you will struggle to gain the traction you need on the platform.

Our advice is to aim to post a image a day and a story a day. Try and post in the morning and this is likely to be seen by more people throughout the day. Before you start posting I would compile at least 2 months worth of content in a file to give you room to breathe. Creating epic Instagram posts is seriously hard work and as such you will need to put some effort into creating amazing content.

How To Use Instagram Stories For Your Business
Our final addition to this mega guide will cover Instagram Stories. Stories feature on the top of your Instagram feed and disappear after 24 hours. You can now archive them and reuse later (a new feature). It is no secret that Stories was a featured developed by Facebook and Instagram to combat the rise of SnapChat, and it worked.

So what are they and how can you use them for your business? Stories are a moment in time captured there and then that vanish afterwards. It is the disappearing nature of them that makes them even more compelling. As human beings we are hardwired to communicate through stories and this is the latest evolution of this process.

When a person logs into Insta they will gave their stories at the top of their feed: And once you click on a story you will simply flow through the stories of the people you engage with until you click off. However while most people and brands are great at using stories, the average business struggles to see how they can use stories to fit into their business model. In truth, stories are the easiest way to create content on Instagram for your customers and to help you here are some ideas:

The Morning Story
The morning story is a great way to start the day at work. Grab your team together and get a picture of the premises or a shot looking out of the window. The purpose behind this post is to create TOMA (Top of mind awareness). If we continue with a coffee shop example, if you post a photo of a latte looking fresh and ready for coffee lovers, when they see this you are priming them to get their morning fox from you.

Announcements
An announcement for your business could be one of a range of things. You could have just had a new product line in or perhaps a new dish has been launched at your restaurant. It might even be something as simple as a new member of staff has started work. The fact is a story announcement will create that community feel between your business and the customer.

Flash Sales
If you want to get rid of a product line fast or are running a sale of any kind, flash sale stores work really well. They hit your followers feed directly and you can use 'this sale will end when the story disappears in 24 hours' to create some immediacy for the consumer to head over. If your business page has over 10,000 followers you can send them to your website by swiping up, this is great for driving traffic to your sales pages.

Behind The Scenes
One of the best types of stories to use that show the magic behind a business is behind the scenes. Let us take a top restaurant, wouldn't you be fascinated to see what goes on in the kitchen? I know I would. Or what about London fashion week? Would you like to see what goes on behind the runway? I am sure thousands would. Behind the scenes stories allow for as business to show the process of their work, this can enhance the perception of value behind the product or brand.

Live Events
If your business is involved in live events, stories can be a superb method to let people know what they are missing. For example, let us say you run network meetings, if you post a live story of the meeting in progress, this can be seen by people who weren't there. Everyone hates the feeling of missing out and as such this will encourage people to come to the next one. It also works well for trade shows, wedding venues, bars and nightclubs.

Product Demonstrations
No matter if you sell products you make yourself or sell products that others make, a demo is a great way to show people the key selling points. For example, let's imagine you sell milkshakes, you know the ones with cream, cherries and half a ton of chocolate on top. When you are about to serve them, just create a quick story showing them being taken to delighted customers to capture that wow moment.

You can apply this to almost any industry. If you sell computers, you could create a quick demo of the boot up speed and do a mini review. If you sell clothes you could do a quick story showing someone trying a jacket on. If you sell drones, you could do a story showing you using one.

A Silly Story
And last but not least, silly stories. Nothing appeals more to humans than good humor, and a business can show its human side by having a bit of fun on camera. The great news is that a silly story will vanish after 24 hours so you can have fun without the risk of damaging the brand. It might be a practical joke you do on a colleague, or just the team doing the floss dance, heck you can even do an office 'singing contest'.

It doesn't really matter what you do as long as you have fun with it. Stories are about reality, it is sharing a moment that has happened there and then. They tend to be less staged and extremely compelling to watch. Your audience will love them, so what are you waiting for? Go record one now!

Conclusion
So there you have it, out huge guide to using Instagram for your business. Instagram is a huge platform that requires posts that are visually appealing and mentally stimulating. So to recap what you need to do in order to leverage the platform for your business.

Step 1. Audit around 30 pages in your niche to see what post types are working and create a swipe file of these post formats.

Step 2. Create posts in advance that will leverage a 'status increase' for the content consumer/ customer.

Step 3. Use Instagram and the DM facility to connect with other business owners.

Step 4. Drive traffic to your business website with a link in the bio and call to action

Step 5. Create a swipe file of relevant hashtags and use these to have your posts discovered.

If you follow those 5 steps you will soon be on the road to Instagram success.